Die veganen Produkte von be [ ] my friend Sind bei uns im Geschäft wieder erhältlich! Wir freuen uns sehr, Produkte führen zu dürfen, die in Österreich mit viel Liebe produziert sind. Ein ganz großer Dank gilt Petra Schröckeneder, die diese Marke ins Leben gerufen hat und unbeirrt daran arbeitet, etwas gutes für unsere Welt zu tun.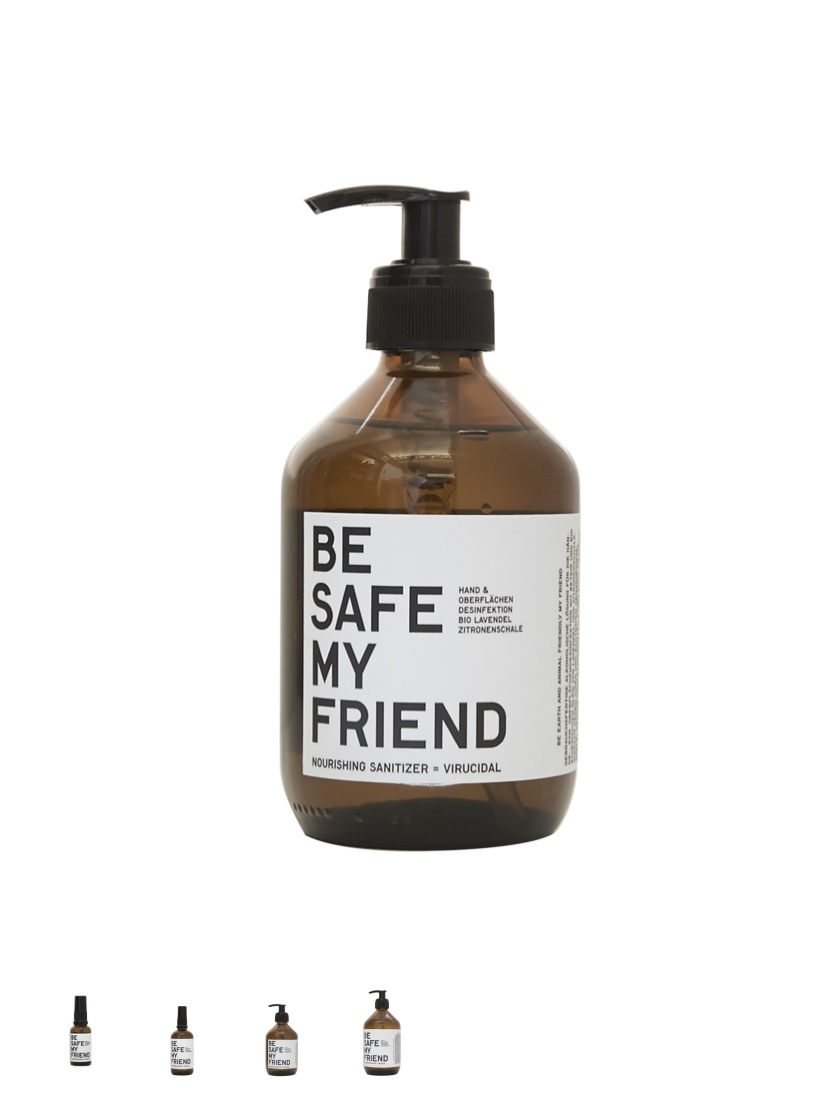 Ganz besonders in Zeiten wie diesen gibt es das Desinfektionsmittel für die Handtasche und für zu Hause.
BE SAFE MY FRIEND ist unser neu formuliertes, hochwirksames und natürliches Desinfektionsmittel. Es ist antiviral, antibakteriell und kann nicht nur für deine Hände, sondern auch für Oberflächen verwendet werden. Wir mischen Bio-Weizenalkohol mit pflanzlichem Glycerin und natürlichen ätherischen Ölen aus Lavendel und Zitronenschale, zusammen mit natürlicher Feuchtigkeitspflege, um deine Haut nicht nur zu desinfizieren, sondern auch zu pflegen.
Wasch deine Hände vor dem Desinfizieren gründlich mit warmem Wasser. Sprühe 2-3 Pumpstöße BE SAFE MY FRIEND in deine Handfläche. Verreibe es gleichmäßig in deinen Händen, Finger und Handgelenken und lass es etwa 30 Sekunden lang einziehen. Vergiss nicht auf die Stellen zwischen deinen Fingern, deine Daumen und Nägel. Kreise mit deinen Nägeln in der Handfläche deiner anderen Hand, damit das Desinfektionsmittel auch unter die Nägel gelangt. Lass die Hände anschließend an der Luft trocknen und wische sie nicht mit einem Tuch ab. Für Oberflächen im Auto oder für den Griff am Einkaufswagen sprühe BE SAFE MY FRIEND gleichmäßig auf die Oberfläche und lass es auch hier etwa 30 Sekunden lang wirken. Verwende ein frisches Papiertuch, um die Oberfläche zu trocknen.
"BE SAFE MY FRIEND Desinfektionsmittel vorsichtig verwenden. Vor Gebrauch stets Kennzeichnung und Produktinformation lesen"
Wir hoffen, du bist gesund und munter und wünschen dir und deine Familie und Freunden Kraft und senden ganz viele positive Vibes und Wünsche!
Reader Rating: &nbsp0 Votes
Share
You May Also Like